At our performance at the London Ukefest 2009 (which still gives me a warm fuzzy glow when I think of it) we had an interview with a Russian language newspaper Angliya who were doing an feature on the day. Secretly I think they were doing research for a mass balalaika event.
You can click on the image for a close-up of the article.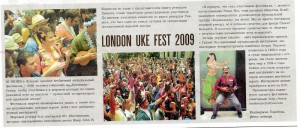 You'll probably be wanting a translation to go with that, or you could learn Russian. I suspect most of you will find the translation quicker and easier, but at the same time, more disposable and less fulfilling.
An interesting musical festival took place in London on 20th June 2009. 2,000 people came to the Devonshire Square to participate in a world record attempt to play simultaneously ukulele, a small four string guitar!

The festival was widely publicized by the Radio and also by all enthusiasts who were really fond of this musical instrument.

The world record was made by 851 people who all played together the song Sloop John B. The Record Committee with a heard of representative from Guinness, registered the participants very carefully. One of the adjudicator from Guinness commented that the organization was the best he had ever seen for any world record attempt.

'I am very proud that I am part of that event', Rishi Nag, the member of the Cambridge University Russian Society and a leader of Karmadillo band shares with his emotions (on the photo). 'We have not just made a record but also did a fundraising activity for charity – Cancer Research. And I had a great fun of meeting the enthusiasts and musicians of all different ages!'

The ukulele originally comes from Hawaii. This is a small guitar-like four strings instrument. It was originally made by migrants in the 1880's in Hawaii and spread across the world in the 1920's. Nowadays it is a very popular instrument, it is easy to play. You can buy a basic ukulele for only £15.

The organisers are planning to have the festival next year. http://www. londonukefestival.com
Yekaterina Gorodova, photos by author
Angliya, 24 (186). Translation of the article from Russian.