Karmadillo bring you catchy yet quirky tunes ranging from the upbeat to the melancholy, the humourous to the political, and the romantic to the scientific contributions of Gustav Mendel. All written and performed on the South American charango, an instrument that used to be made from armadillos.
Coveted awards include audience choice from the Cambridge Buskers Festival and the Geekpop Most Contrived Lyric Prize.
The main creative engine on the good ship Karmadillo is Rishi, based in Cambridge UK, performing songwriting and front man duties. He picked up a charango whilst doing volunteer work in South America in 2002. It inspired him to cut his hair and stop playing in metal and hard rock bands. The first gig he performed with a charango as Karmadillo was coming on stage before David Byrne played his headline set at the Out There Festival in Bracknell – its all been downhill since then. Along the way there Karmadillo have been a duo, trio, a full band line-up, but is now a solo project.
There have been a number of recordings made by Karmadillo, with most of them online now . Live, Karmadillo have entertained audiences with their witty feel good music with insightful commentary and ballads from small barges on the River Thames to being on stage at big festivals. Karmadillo are setting up to record another album and EP for release in 2021/2022 window.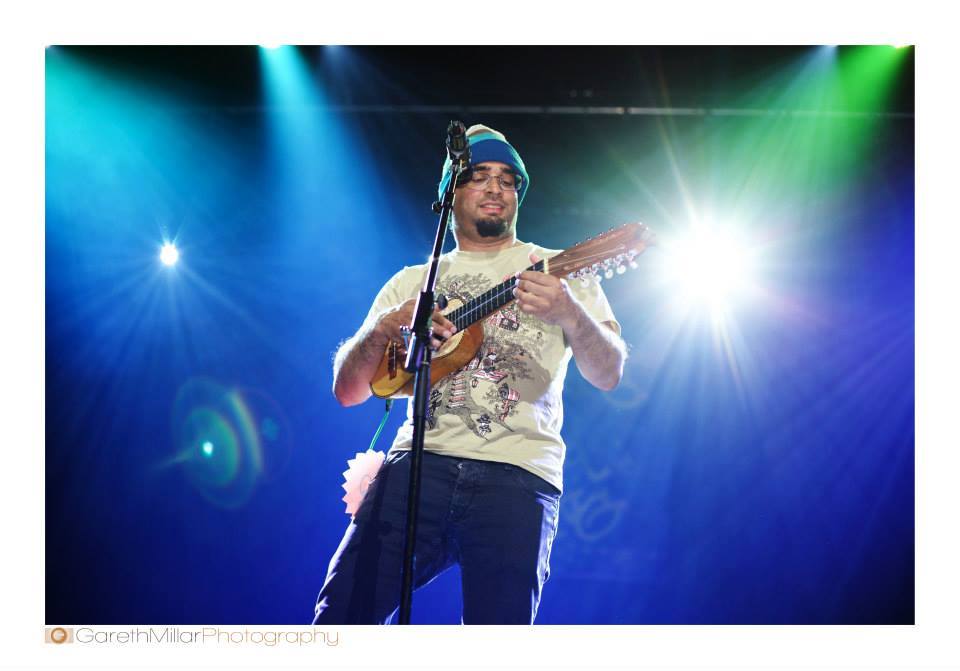 The Full History
The Born Identity
The very start of Karmadillo sees Rishi returning from South America suitcase in one hand and a charango in the other. This was purchased while in Bolivia after a two year placement with Voluntary Service Overseas (VSO) in Guyana.
The first gigs was at The Out There Festival in Bracknell, as a solo project. The charango being an unusual and new instrument was a tricky one to deal with from a songwriting and gigging perspective. The songwriting was really helped by realising the rock bands Rishi had played in in the past was not going to be emulated on this ukulele type instrument. A professional charango with an in-built pickup really helped with playing live. Further details on this will be added to the charango page soon!
After a bit of tinkering and figuring out a musical direction he was joined by James Thomas on bass. In 2005 they supported another band who had an oboe player. The sound of this inspired the song Still, and she was invited to record oboe on the song Still. She didn't leave, so Karmadillo welcomed the multi-talented Kate Newell to their ranks on vocals, oboe, flute and a variety of other instruments. This period saw the launch of their self released first full album in 2006 – 'Crunchy On The Inside'. The CD launch gig itself was a particular highlight.
Eventually Kate left to return to her Australian homeland so she left Karmadillo. After this we thought – how do you replace someone so loud and in your face? The answer was a drummer.
Karmadillo And The Age of Enlightenment. Well, a full on drumkit.
2009 was a busy year. Following a storming appearance at the London Ukulele Festival a UkeyLove Records, a ukulele based record label, got interested and arrangements were put in place for a single to come out. In addition 2009 August saw Karmadillo hit the Edinburgh Fringe Festival supporting Amanda Palmer of Dresden Dolls fame and Thomas Truax. Which was not just cool, but bloody amazing!
During this period Karmadillo made the transition from an acoustic act to a full-on band. There were two line-ups in this period. The first was with Juliette Jones, previously with The Saffs, on the drums. She had recorded 'Rhymes With Pain' with Karmadillo from the Crunchy On The Inside album before. Eventually she felt the urge to join an all-girl group, and despite Rishi and James attempts to placate her by donning heels, pearls and a variety of outfits from Monsoon, she left to join the excellent pop-punk outfit Beverly Kills (a band incidentally brought together by Rishi!)
After she left the replacement was Pip Johnson on drums and Tom Gaskell on guitar and kazoo. This was also brilliant.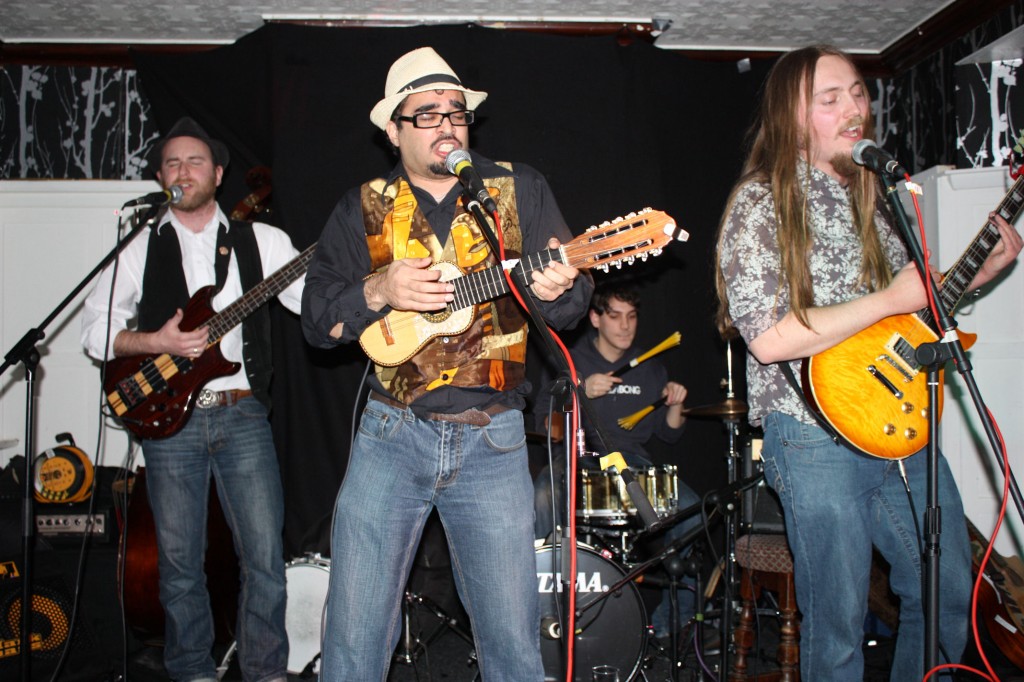 Karmadillo Age 10 and The Age of Reason. Singing Science is born.
In 2010, Karmadillo made the transition to being a solo act, though still using recordings from the full on band live as backing tracks. It started off well, with the charango being the first instrument used on a T-Mobile inspired single and the summer seeing Karmadillo voted Champion Busker at the Cambridge Buskers And Street Performers Festival.
2010 also saw the release of the first ever single with UkeyLove Records, Noone Else and the 'Bard For Life' album. Unfortunately there was a knee injury sustained over the summer which curtailed touring plans and following a child appearing Karmadillo quietened down for a period. This changes in 2021 with a more active schedule once COVID has run its course and new recordings slated for 2021-2022!
Parallel to this, Rishi's involvement in a festival called Geekpop also saw the dawn of Professor Karmadillo. This is a project to write songs about science and has now been turned into Singing Science, which is currently the main focus of Rishi's musical endevaours. The first project – Genomics! The Musical! – demonstrates a fine music of music, comedy and science, and has been performed in the UK and the US. Look out for more shows of this ilk!